Almost any shoe model that has decorative perforations – broguing – can be called a brogue shoe. The model doesn't matter as long as it has those decorative perforations. So, basically, any shoe model can be a brogue shoe.
The only exception to that is a shoe that only has a toe cap decorated with broguing instead of stitches – this style is called punched toe cap.
All brogue shoes can be divided into 6 main style groups.
1. Full / Wingtip brogue shoes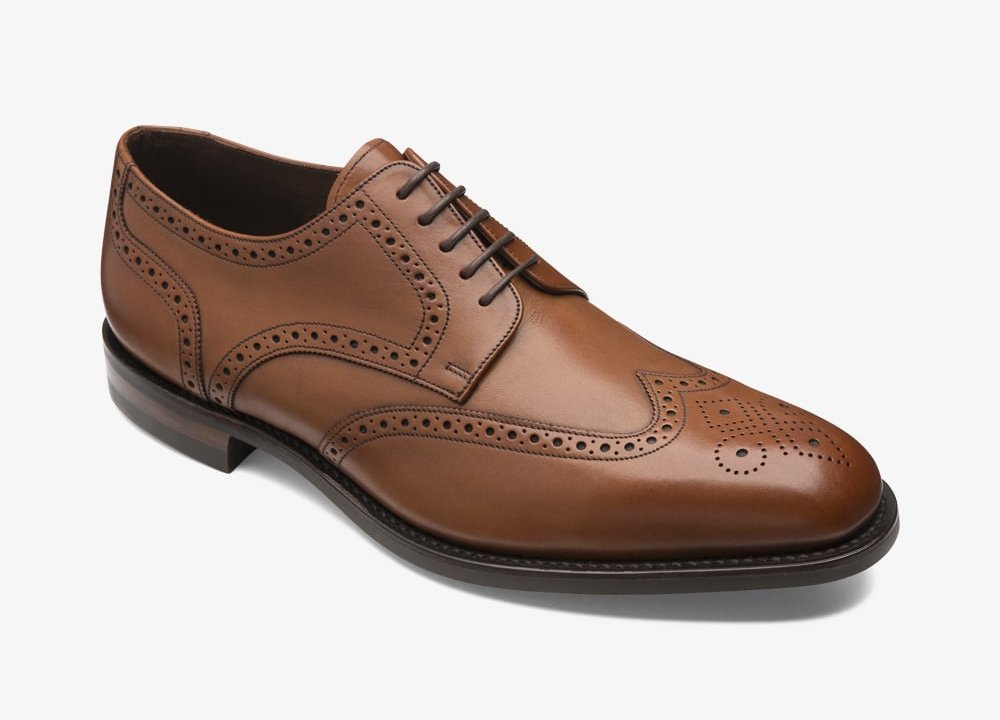 Full brogue is probably the most popular brogue style. You can easily recognize full brogue by a pointed toe cap with decorative perforations that extends towards the sides of the shoe. That's why this style is called wingtip brogues – because of this shape that resembles wings.
This shoe style also has broguing on the toe – which is called medallion – and more perforations around the quarters, throat, and heel counter. Full wingtip brogues are the least formal style out of all six because it has the largest amount of broguing.
In the US, it's common to refer to a full brogue as a just a "wingtip". While these terms overlap they are not the same. A term "wingtip" refers to stitching on shoe's upper that resembles a wing of a bird and has nothing to do with perforations. Broguing, on the other hand, are decorative perforations that can (but are not required to) be arranged in a wingtip pattern. So, a wingtip shoe is not always a full brogue and a full brogue shoe is not always a wingtip.
2. Semi / half brogue shoe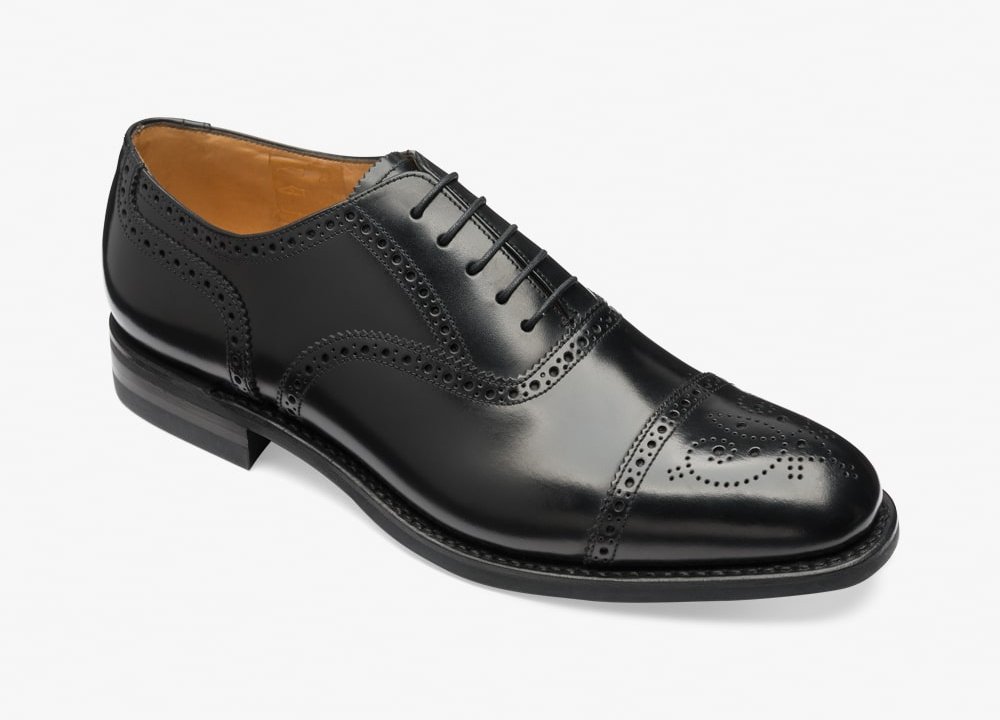 This style is very similar to full brogue, but there is one main difference – the shape of the toe cap. Compared to wingtip brogues, semi brogues have a regular shaped toe cap decorated with perforations. All other broguing (around the quarters, throat, and heel counter) is also present, the only difference is the toe cap. Half brogues are a bit more formal than the full brogues.
3. Quarter brogue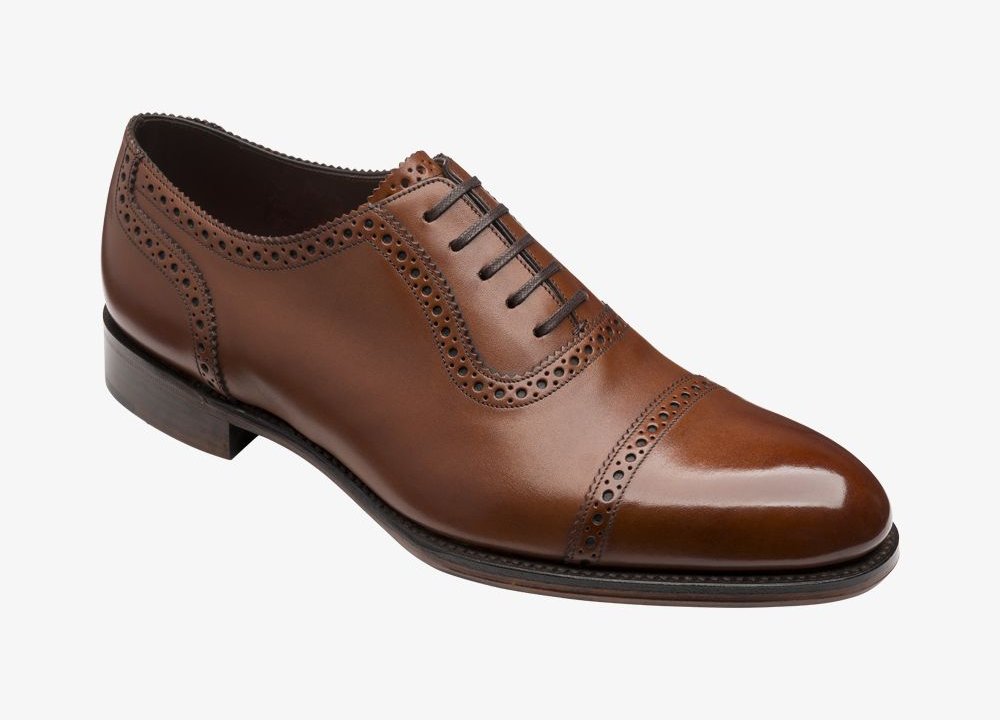 A more formal cousin of the half brogue is the quarter brogue. It's almost identical in terms of broguing but is missing one detail – medallion. The toe cap is plain, without any decorative perforations. Because there are no perforations on a toe cap, the shoe looks more elegant and is a bit more formal compared to the half brogue.
4. Longwing brogue shoe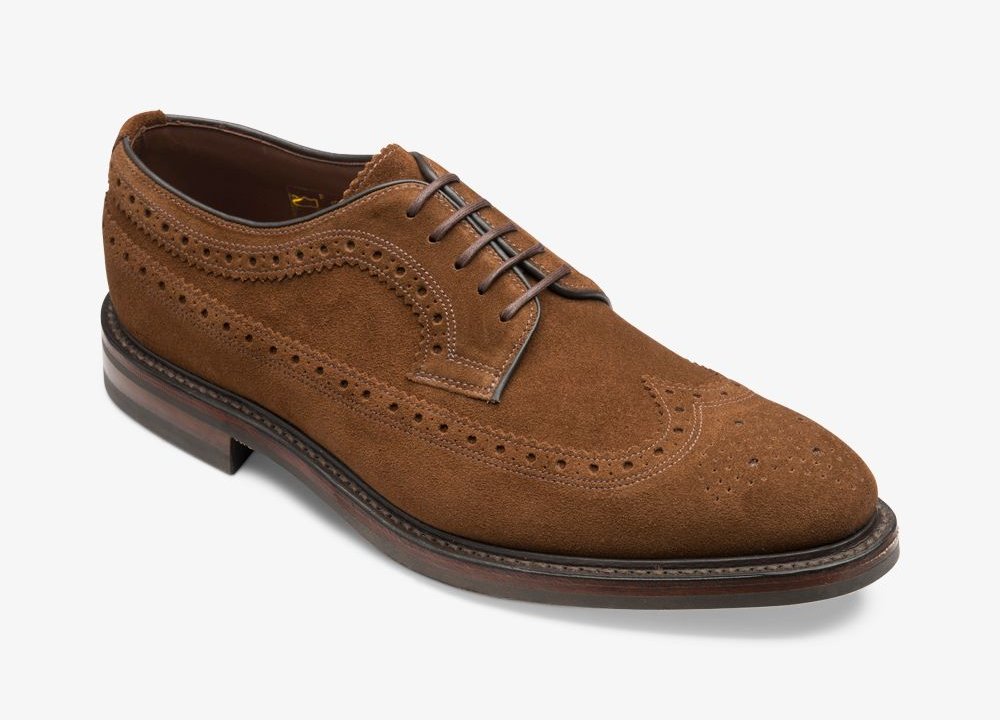 This style is a variation of classic wingtip brogues. The wing pattern is still visible, but the broguing is arranged in such a way that it spans both sides of the shoe until the heel counter in the back. Longwing brogues are on the same formality scale as wingtip brogues so we don't recommend wearing them in formal or business settings.
5. Austerity brogue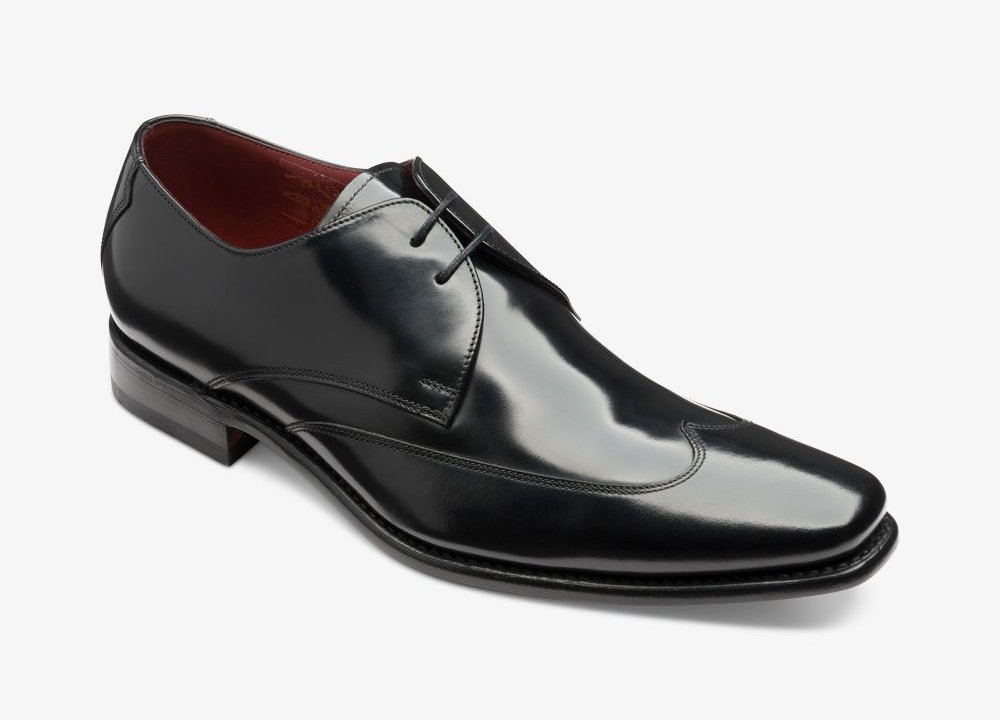 Brogue shoes that have a toe cap in the shape of a bird wing with decorative stitches instead or broguing are called austerity brogues. This is the shoe style that you could actually call just a "wingtip" because it has the shape, but not the broguing. Austerity brogue shoes usually have a wingtip or longwing shape and are the most formal of all brogue shoes, because they don't have any perforations, just decorative stitches.
6. Blind brogue shoe
Blind brogues are plain toe shoes made from a single piece of leather that have broguing punched directly on to the upper. You might find some sources on the internet saying that blind brogue shoes are those that don't have a medallion on their toe, but this is not true. As you already know this style is called quarter brogues.
Looking for new brogue shoes?